South Shore bar pizza proved America's greatest restaurant success story of 2020 – a year otherwise defined by Covid-fueled devastation of the industry from coast to coast.
South Shore bar pizza is a unique style of a personal pan pizza found only in the blue-collar pubs, taverns and dive bars south of Boston. (We called it America's most delicious and most eccentric pizza tradition earlier this year.)

These mom-and-pop local businesses not only survived, they THRIVED in 2020, many boasting their most successful year ever.
Bar pizza's rise, survival and triumph over Covid was fueled largely by the South Shore Bar Pizza Social Club, a Facebook group created by KJB Trending on the eve of the pandemic to support local eateries. It succeeded by tapping into deep-seated local pride and culinary curiosity.  
"The Facebook group was a Godsend, an absolute Godsend," said Tom O'Toole, the owner of bar-pizza joint O'Toole's Pub in Whitman, Mass., a small working-class community with American culinary street cred as home of the original Toll House cookie. "The group single-handedly saved my business."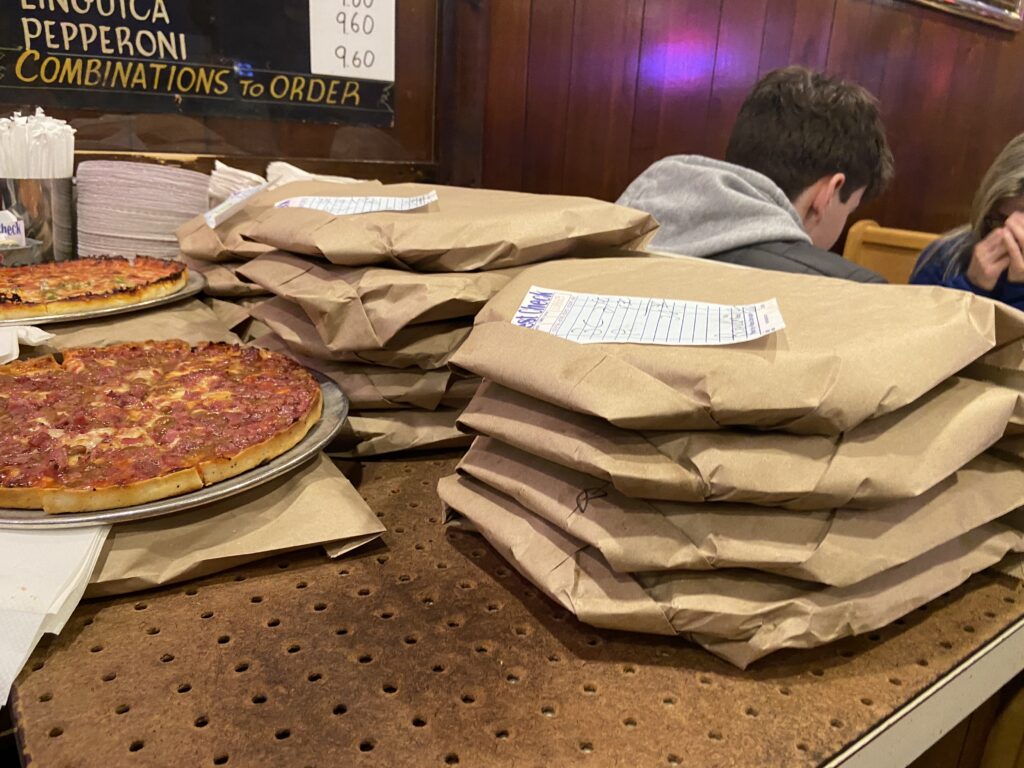 South Shore Bar Pizza Social Club members list approximately 50 different establishments that offer South Shore-style bar pizza. All 50 locations survived 2020, a year in which more than 110,000 American eateries closed "permanently" according to the National Restaurant Association.
The South Shore Bar Pizza Social Club numbers nearly 23,000 active, enthusiastic members and inspired:
Renewed interest in the history, culture and idiosyncrasies of this local specialty pizza
A spike in regional culinary pride in this traditionally Irish-American area of the country
Dramatically increased sales at almost every pizza pub on the South Shore
The spread of bar pizza terminology and traditions, including the phenomenon of "laced" edges, now found throughout the region
Perhaps the world's largest collection of pizza photos, as members proudly posted tens of thousands of images of their latest pizza discoveries or home creations
Culinary tourism as South Shore pizza enthusiasts now plan weekends around visiting recently discovered bar pizza hotspots
A enthusiastic wave of pizza cooks, who spent the year teaching themselves how to bake bar pizza at home while passing on this hyper-local culinary tradition to their children and a new generation of South Shore residents
Here are five case studies that make South Shore bar pizza America's greatest restaurant success story of 2020:
BOBBY OWENS: PIZZA PAN SALESMAN TURNED LOCAL CELEBRITY
South Shore bar pizza is cooked in 10-inch steel pans. No pan? It's not bar pizza.
The Owens family of Bay State Restaurant Products in Brockton, Mass., meanwhile, has been selling bar pizza pans and ovens to local eateries for 75 years.

But it's only here in 2020 that fourth-generation owner Bobby Owens became a local celebrity while reaping a whole new market of customers: home cooks.
Owens in a typical year will sell about 1,000 pans, mostly to local bar pizza pubs.
Here in 2020?

"We sold ballpark about 5,000 pans, mostly to new private customers," said Owens. "It's by far the most pans we've ever sold."

Owens is now a local celebrity widely praised by club members and the subject of selfies with bar pizza enthusiasts who shop at his outlet and refer to him as "the famous" Bobby Owens.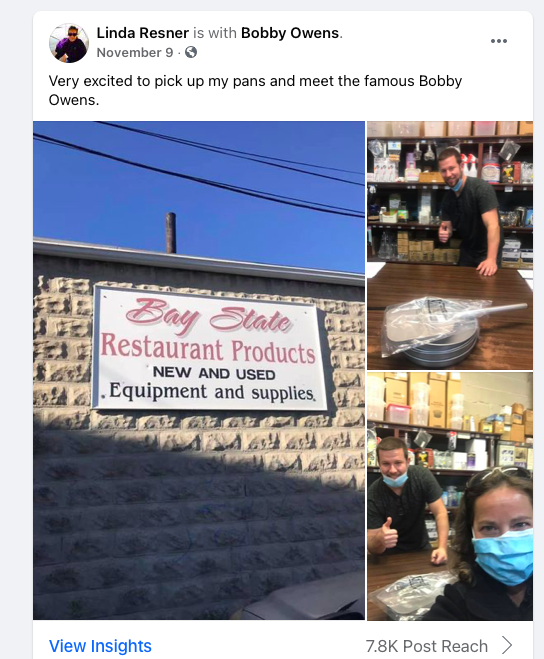 THE LAS VEGAS FILMMAKER & BAR-PIZZA-BAKING GOOD SAMARITAN
Mark Ross is an independent filmmaker from Las Vegas who grew up in the bar-pizza community of Randolph, Mass., where bar pie is sold at venerable neighborhood landmarks like the Lynwood Café (cash only!) or Hoey's, a beloved bar-pizza joint wedged inside the local AmVets Hall.

Inspired by the South Shore Bar Pizza Social Club, Ross has begun work on a documentary that chronicles the bar pizza phenomenon. He also taught himself to cook bar pizza at home, and now shares his creations with needy local families in Las Vegas.
He calls his labor of love Patriot Pizza – "Life, Liberty & the Pursuit of Slices!" – and shares his homemade bar pizzas for free with anybody who shows up at his door in need of a meal.
"The South Shore Bar Pizza Social Club was the right inspiration at the right time," said Ross. "It inspired me to pursue my passion for bar pizza and then share this tradition in a part of the country that had never heard of it. Each pizza I make is an ambassador of good will and helps raise spirts in the city of Las Vegas, which was devastated by Covid."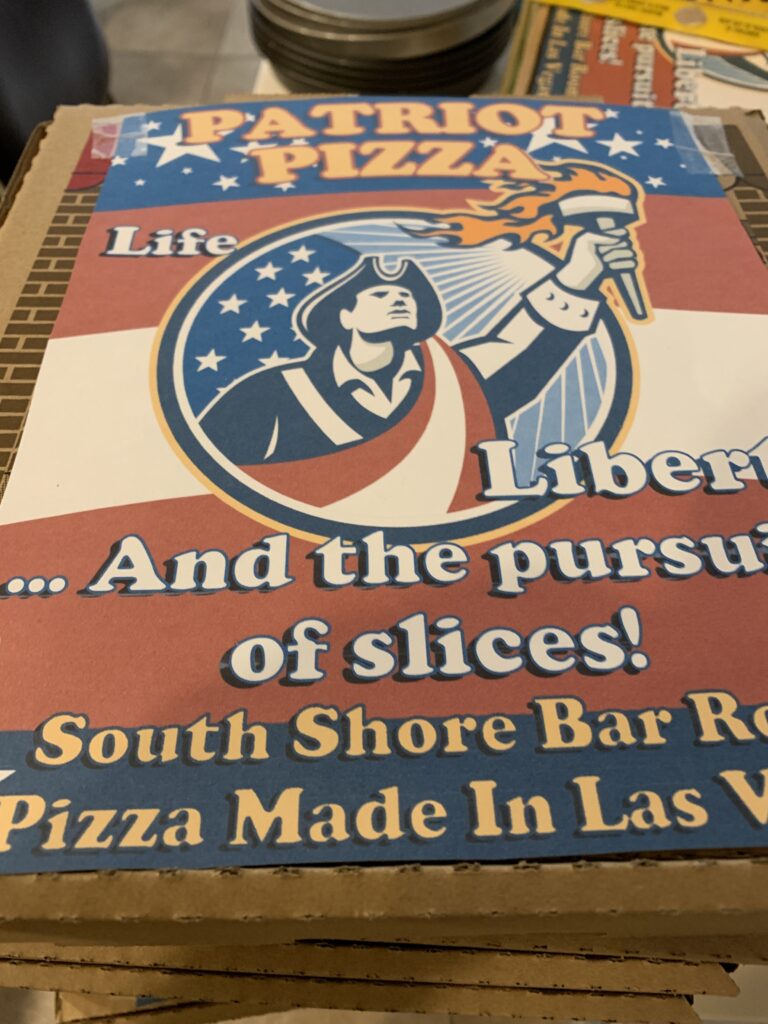 THE HOME OF AMERICA'S BEST SOUTH SHORE-STYLE BAR PIZZA
The Next Page Café in Weymouth, Mass. is a typical working-class neighborhood watering hole, best known for live music while selling bar pizza on the side.

It's now known as the home of America's best South Shore-style bar pizza – as voted on by the members of the South Shore Bar Pizza Social Club.
Member James Gullage organized this fall a competition that pitted 48 different South Shore bar pizza pubs in a round-robin style tournament.
After some 20,000 votes were cast, the Next Page came out on top in something of an upset against more established bar-pizza locations. The victory instantly made the Next Page a must-visit destination for bar pizza enthusiasts from far and wide.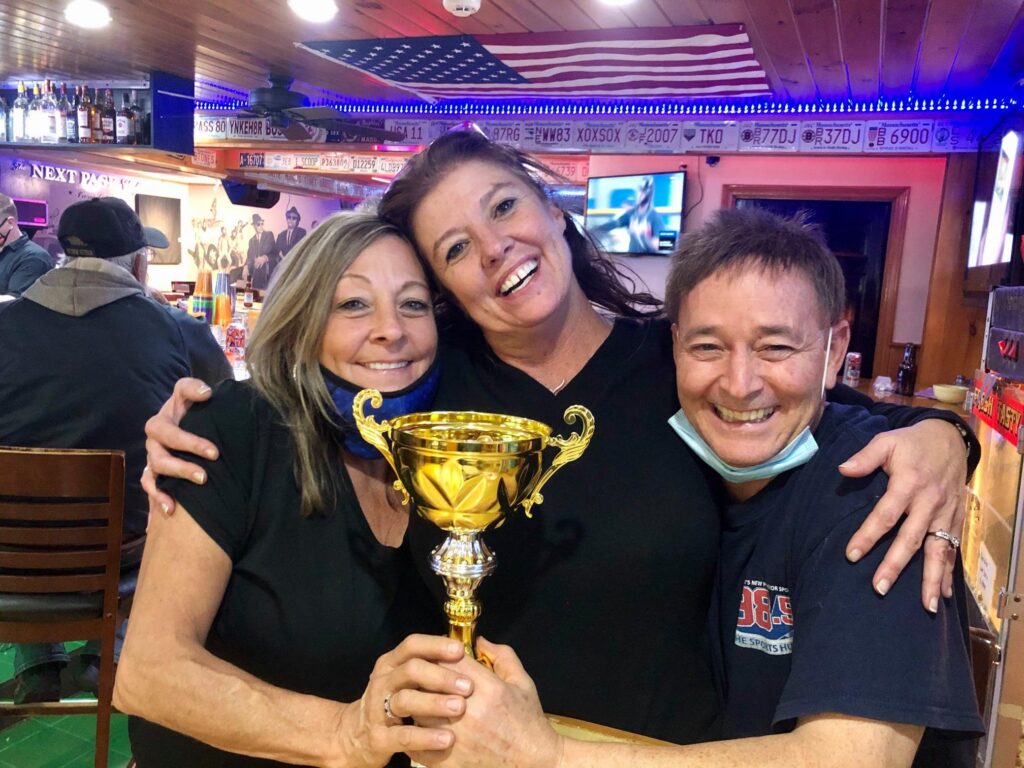 "The group has been amazingly impactful," said owner Eddie Page, reporting that pizza sales are up by as much as 250 percent compared with last year.

"It's helped us get by in these extremely tough times, especially since we miss our live music, and put the Next Page on the map far beyond Weymouth. We now have a whole new market of customers that come from all around the region just for our pizza."
(Next Page pizza maker Steve Player has cooked more than 3 million pizzas in his 50 plus years in the business and discusses his bar pizza secrets here.)
THE BOSTON NEWSMAN TURNED HOME BAR PIZZA CHEF
Cosmo Macero is a well-known Boston media personality who now works in public relations and consulting for Seven Letter communications.

He added a new title to his resume here in 2020: home bar pizza chef.

Macero is among the thousands of South Shore residents who taught themselves how to cook bar pizza at home during the pandemic.
"Bar pizza is the best type of pizza, the best pizza in the country," said Macero. "I'm 100 percent in on it. Keep in mind, I'm 100 percent Italian, too. My dad made homemade Italian artisan pizza when I was growing up. But at this point, I only eat bar pizza."

Macero celebrated his birthday on December 11 with a long-awaited gift from his wife Keri: a set of bar pizza pans from celebrity pizza-pan salesman Bobby Owens.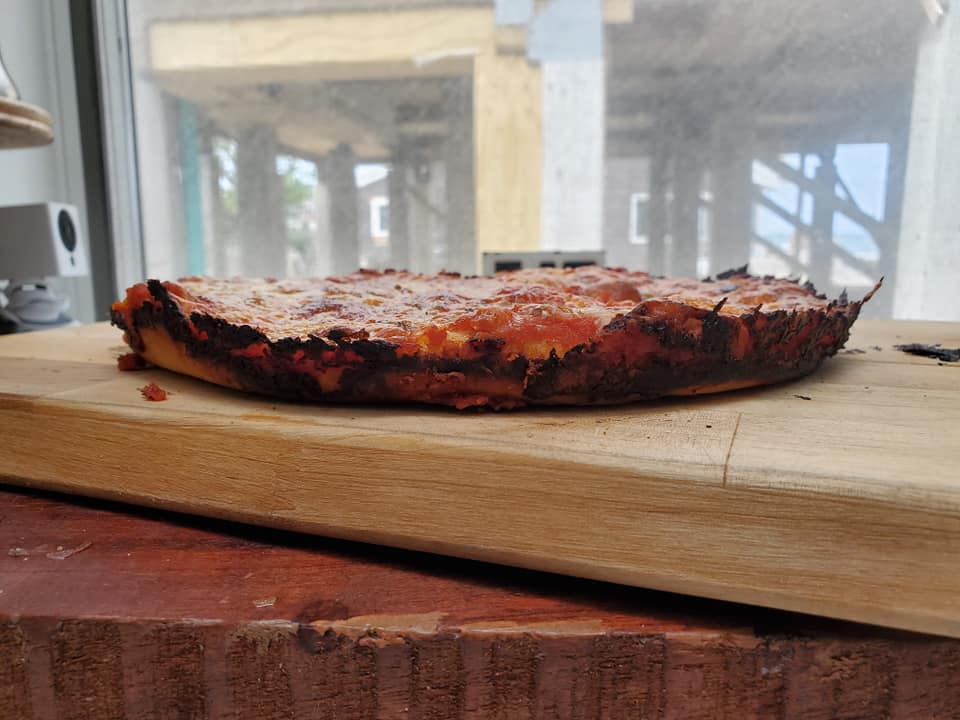 THE PASTRAMI & PICKLE PIZZA and THE BEAN SPECIAL
The aforementioned O'Toole's Pub in Whitman, Mass. has been one of the South Shore's great Covid success stories.

It's new-found reputation as a bar pizza hotspot was built upon an unusual niche pizza even within the culinary curiosity of South Shore bar pizza: the pastrami & pickle pizza.

Sounds weird. Tastes amazing.

"One of my customers, Lora O'Connell, asked for it two years ago. I laughed at her. But pastrami & pickle absolutely blew up this year and now it's hands-down our No. 1 pizza. I go through 40 to 60 pounds of pastrami per week. Not only that, I don't think there's a bar on the South Shore that doesn't serve pastrami & pickle pizza now."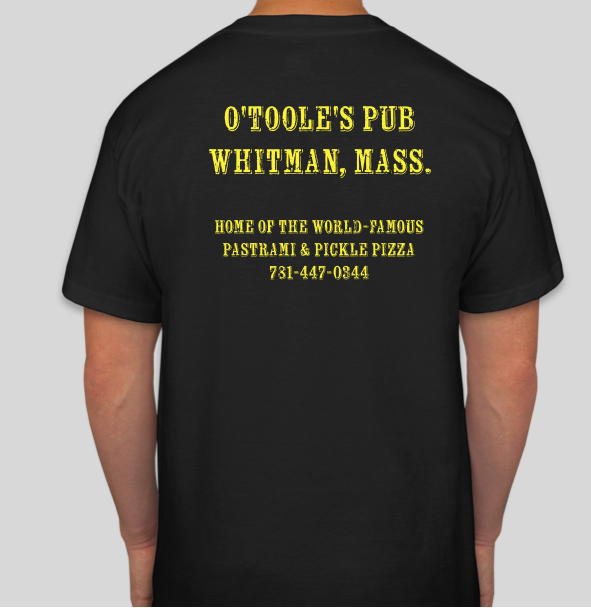 The pastrami & pickle pizza is a mere pup among unusual South Shore bar pizza combinations. For a true taste of South Shore bar pizza tradition, try to the bean special: a combination of finely chopped onions and salami with Boston baked beans.

Like the pastrami & pickle, it sounds weird but tastes amazing.
The bean special is most closely associated with the Lynwood Café and Hoey's at the AmVets, both in Randolph, but variations have since spread across Boston's South Shore.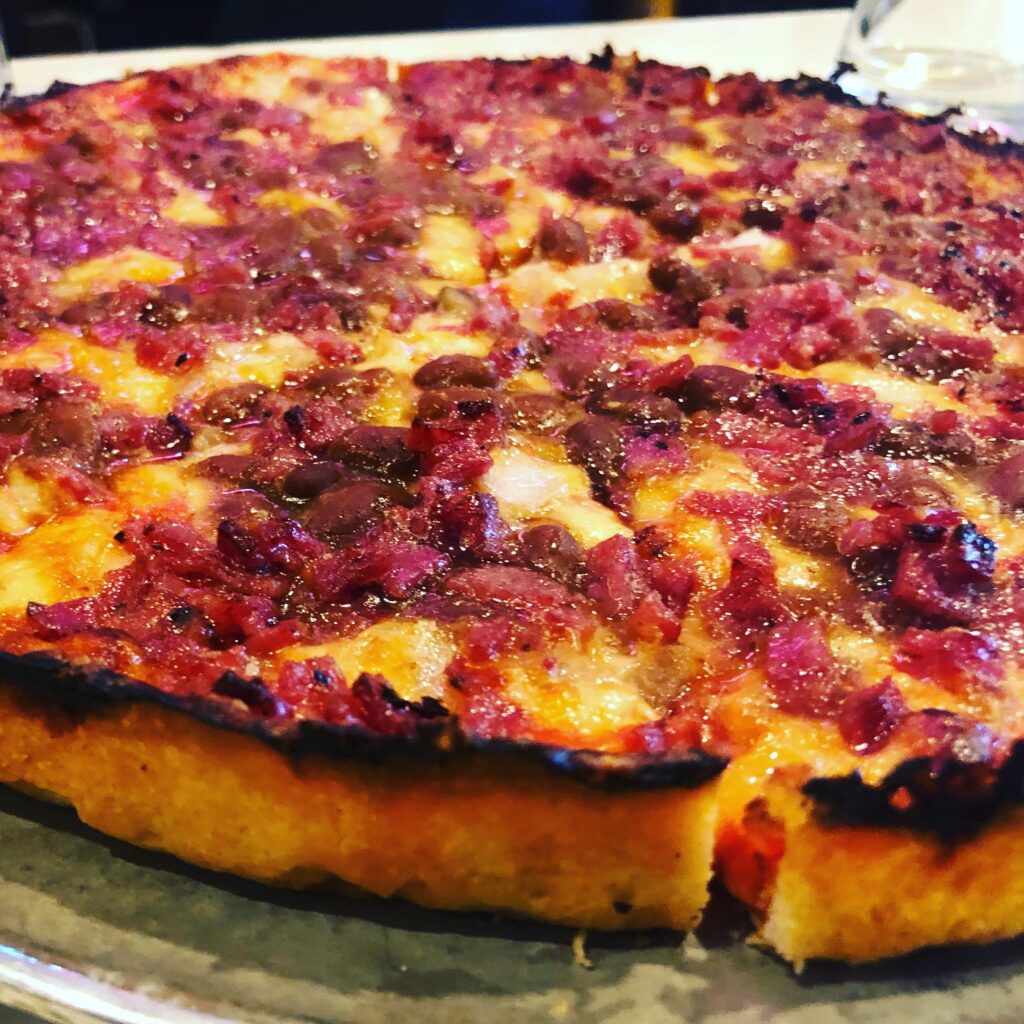 For information about the South Shore Bar Pizza Social Club or South Shore bar pizza in general, or to interview any of the members of the club mentioned here, contact Kerry J. Byrne, 617-797-0408, [email protected].