A fabulous autumn dinner at Manhattan fine-dining landmark Daniel reminded me of some advice I typically share with my restaurant friends, new clients and aspiring restaurateurs.

There are three major elements to restaurant success, a three-legged stool without which the business topples over:
the food
the service
the "it" factor
The food, of course. Do people enjoy your food? And do they enjoy it in the right context? In other words, if you're a family pizza joint, you better serve awesome, affordable pizza. And if you're globally renown chef Daniel Boulud, you better knock guests' socks off with beautiful, sophisticated fare they rarely find anywhere else.

The service, naturally. Research and your own experiences prove that people will tolerate mediocre food if they have great service from a friendly face. Your guests routinely return to see their favorite server. A juicy hamburger and a smile offer a perfect recipe for success at many restaurants.

And then there is what I call the "IT" factor. Does your restaurant have "IT" – whatever IT may be for you and your customers.

This is where the artistry of the restaurant enters the picture. IT is the hardest part of the dining experience to capture and project on to consumers. Food and service can be perfected with the right leadership. The "it" factor combines branding with innate artistry.

Gifted chefs with delicious food and a great staff routinely fail because they fail to capture IT and project IT to the wider world. We spend a great deal of timing working with clients to define their "it."

Put most simply: do customers feel "it" when they walk through the door? No different than listening to a song or admiring a work of art. People instinctively like "it" or not.
Michael Jackson had "it" – people around the world reflexively loved his music despite his many personal foibles. Van Gogh had "it" – creating universally beloved works of art despite his madness.
The more people that instinctively enjoy the experience of your restaurant the more likely you are to succeed, no matter what problems life throws your way.

This experience begins long before customers walk through the door, via social media, traditional media, web experience, phone calls, word of mouth and every other touch point. You set the expectations of "it" long before a single pan warms up in the kitchen.

And the "it' they expect better be matched by the "it" they feel when they walk through the door. Otherwise you don't have, well, you don't have "it."
KJB Trending spends a great deal of time talking with clients about their "it" – working to ensure that the unique story behind your business that we're telling to the wider world is matched by the vibe inside.

In the world of restaurants, Daniel has "it" – or still has it, as the case may be.

One of the benefits of moving to Manhattan in the midst of Covid is an opportunity to explore New York City without the crowds – including its most famous dining spots.

Daniel, on Manhattan's ritzy Upper East Side, was high on my list.

Namesake Daniel Boulud is one of the world's most celebrated chefs. I had the opportunity to cook with him during my days covering food for The Boston Herald, soon after he opened (the former) Bar Boulud in the Back Bay in late 2014.

He taught me how to cook his signature sea bass en paupiette, a delicate filet of flaky white fish wrapped in razor-thin shavings of potato and pan-fried in clarified butter to golden perfection.

So delighted by the opportunity to cook with this global master, I made the star-struck teen move of taking a selfie with my subject – a moment captured on film by photographer Chitose Suzuki (and then published in the paper).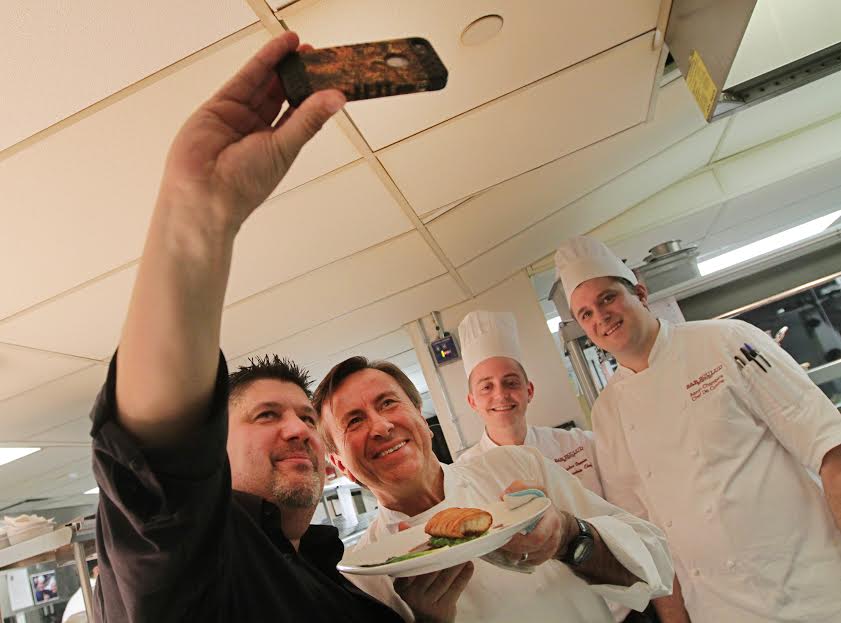 Boulud could not have been more gracious. "He smiles often and easily," as the Herald reported that day. "Indeed, his charm is a big part of his success."

Boulud projected "it" upon me, a seriously hard-to-please professional diner, and upon Herald readers, most of whom never tasted his food. 

But the story around the food world in recent years was that Daniel, and Boulud himself, had lost their fastball. That they no longer had "it," in other words. 

The story was fueled in 2013 when New York Times restaurant critic Pete Wells dropped Daniel from four stars to three stars; and again the following year when global arbiter of fine dining Michelin downgraded Daniel from three stars (its highest rating) to two stars. (Worth noting, conversely, that Forbes in 2019 named Daniel the top-ranked restaurant in America). 
Regardless, I found a restaurant still on brand, despite the challenges posed by Covid. I found a restaurant that still had "it."
The experience began before I even walked through the door. Temporary restaurants have popped up on streets all over Manhattan this year, many of them shoddy makeshift piles of plywood.

Not at Daniel.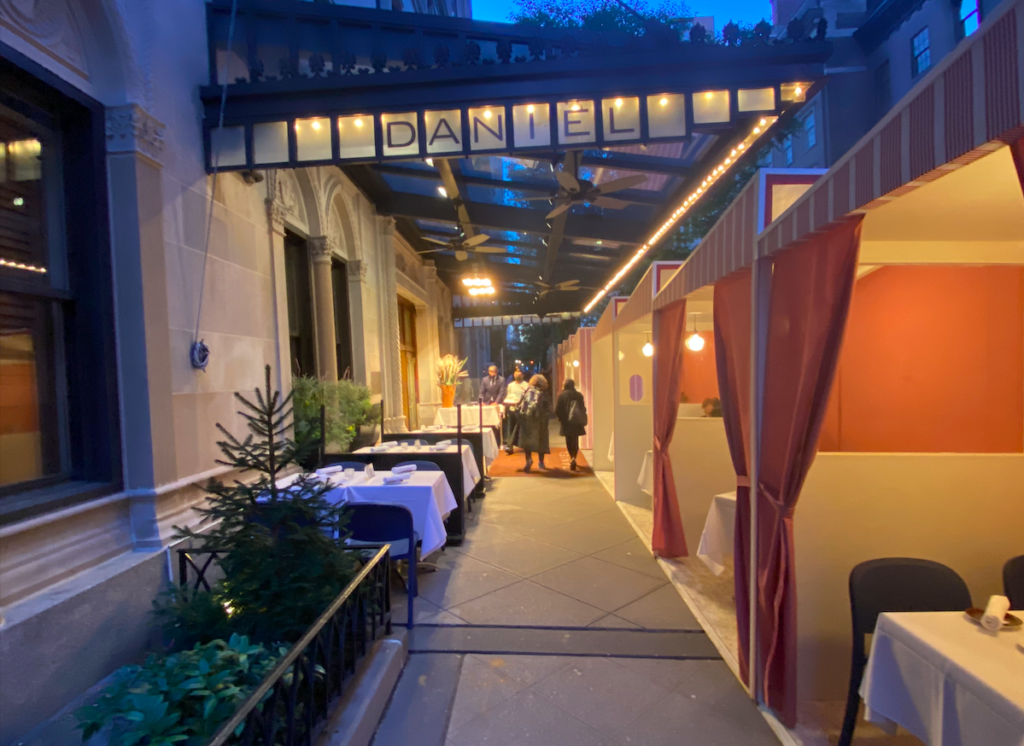 It filled the southern side of East 65th Street with decorative private pinstriped cabanas wrapped in red-and-pink drapes that spoke of sumptuous refinement within. The street-side visual matched Daniel's reputation before I even reached the door.

The air of refinement continued with a warm reception from the dignified host – who recalled our conversation from earlier in the day when I phoned to make a reservation.

I was dressed for casual summer in Manhattan: t-shirt, faded blue jeans and sneakers. Not the typical garb of a night out for dinner on the Upper East Side. Yet the host treated me like I was the most important guest he'd ever entertained.

My dress might not have been welcome in normal times; but here in Covid, every customer, every dollar, is more important than ever. Regardless, the host instinctively made me feel special – which always makes the food taste better.

Remember, when people arrive at your restaurant, they WANT to love it. NOBODY goes out to eat hoping it sucks. They covet a great experience they can then gleefully share with their friends. They're already biased in your favor; the chips are already in your corner. You just need to nudge them toward the place they want to go: loving your restaurant.

You begin to nudge them the first time a member of your team says "hi."

My reservation turned out to be an unnecessary in the Autumn of Covid. The lounge where I sat solo was largely empty – so many diners still afraid to eat indoors. The inside décor was, admittedly, a bit tired, too.

The 1970s called. They want their dining room rugs back. And the dark windowless space offers the dark clubby vibe of an earlier era, and stands in sharp contrast to the more modern design zeitgeist of bright sun-filled rooms where the wider world is the backdrop of the dining experience.

Perhaps the décor had fueled the belief that Daniel's better days were behind it. I'm 100 percent certain that the tired vibe influenced the critics. The space could use some updating.

But the food was exhilarating. The kitchen still had IT!
I was greeted with a complimentary seasonal amuse of striped bass ceviche with slivers of beets, herbs and flowers in chive oil. It was gorgeous.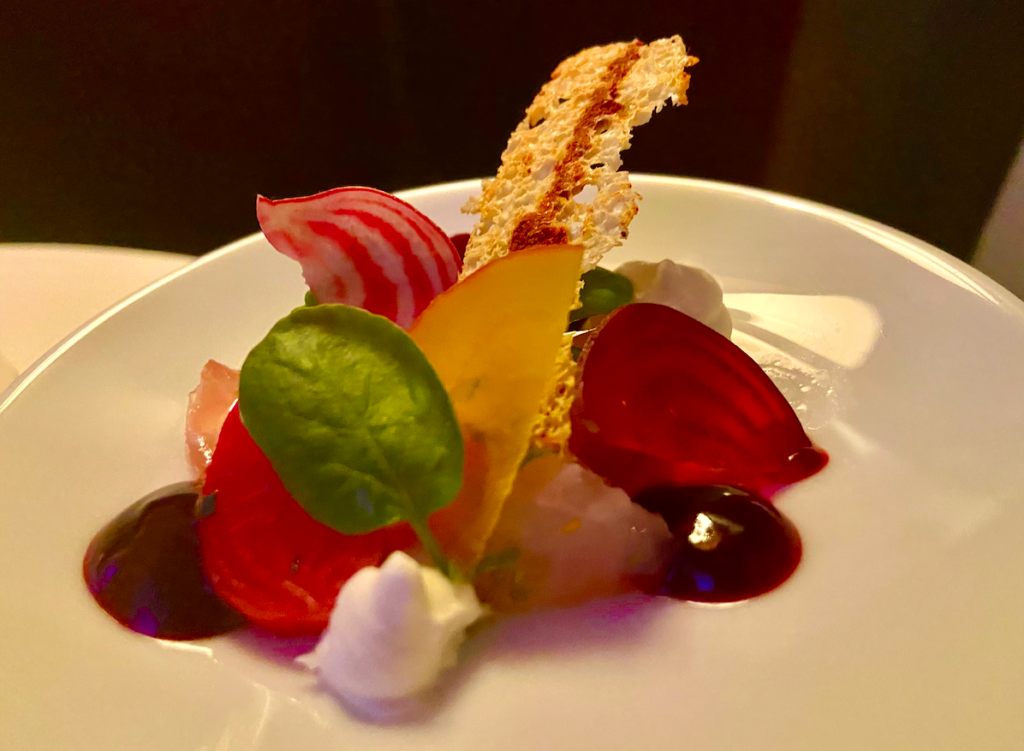 Boulud is known as a charcuterie master – the opening of his former Bar Boulud in Boston's Back Bay, for example, featured an entire suckling pig packed with pate.

So I ordered the Provencal-style pate en croute with fig-raisin chutney, fennel pollen pickle radish and tarragon mustard. It was both beautiful and delicious, a marriage of rustic rural French tradition and locally sourced contemporary flavors.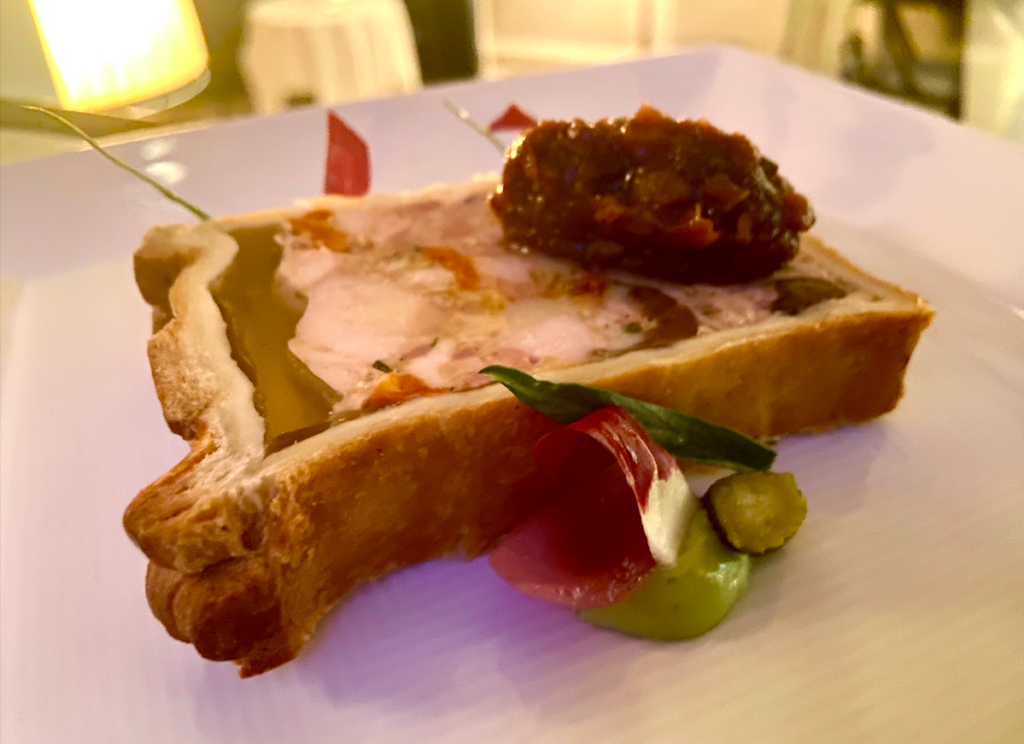 My entrée, roasted Highland Farm venison, raised in the Hudson River Valley, was paired with an array of roasted mini chestnuts, Castle Valley grits, radicchio and seasonal pomegranate seeds.
The sour acid pop of the pomegranate provided a perfect pairing with the savory tender venison. I make smoky venison sausage each autumn and typically serve it with a tart, homemade cranberry sauce.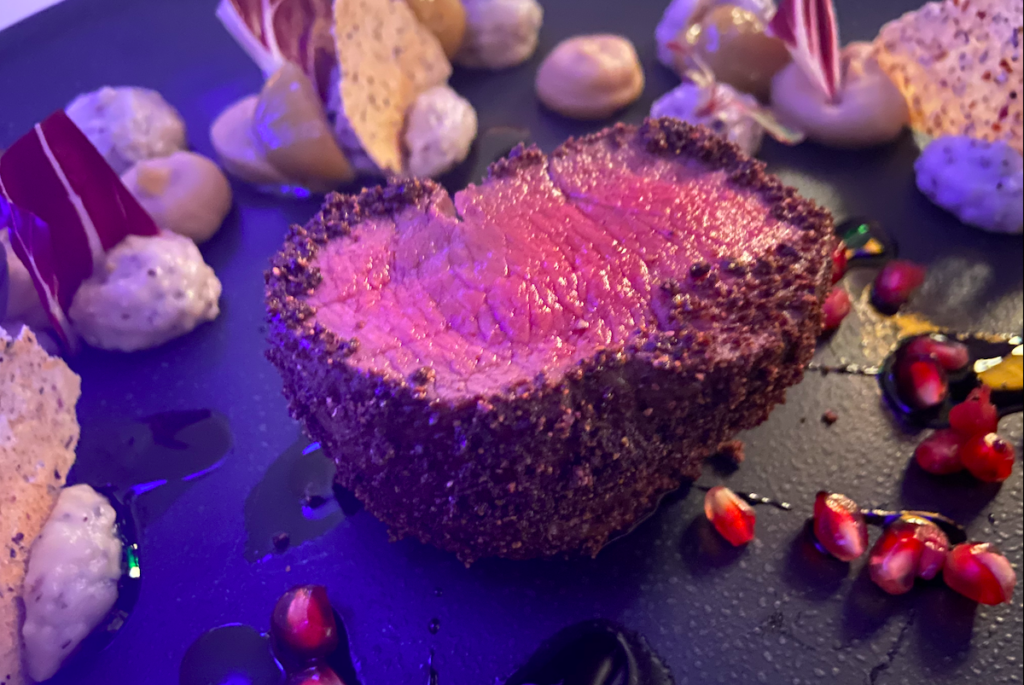 So I was delighted to find a pairing I innately enjoy with my rudimentary cooking skills – venison with tart fall fruit – replicated at a much more exquisite level on this autumn evening at Daniel.

My dessert of chocolate tart with pine-nut praline was flecked in gold; and served with a complimentary basket of warm miniature madeleines coated gently in confectionary sugar. By this point, I needed neither – but finished both desserts.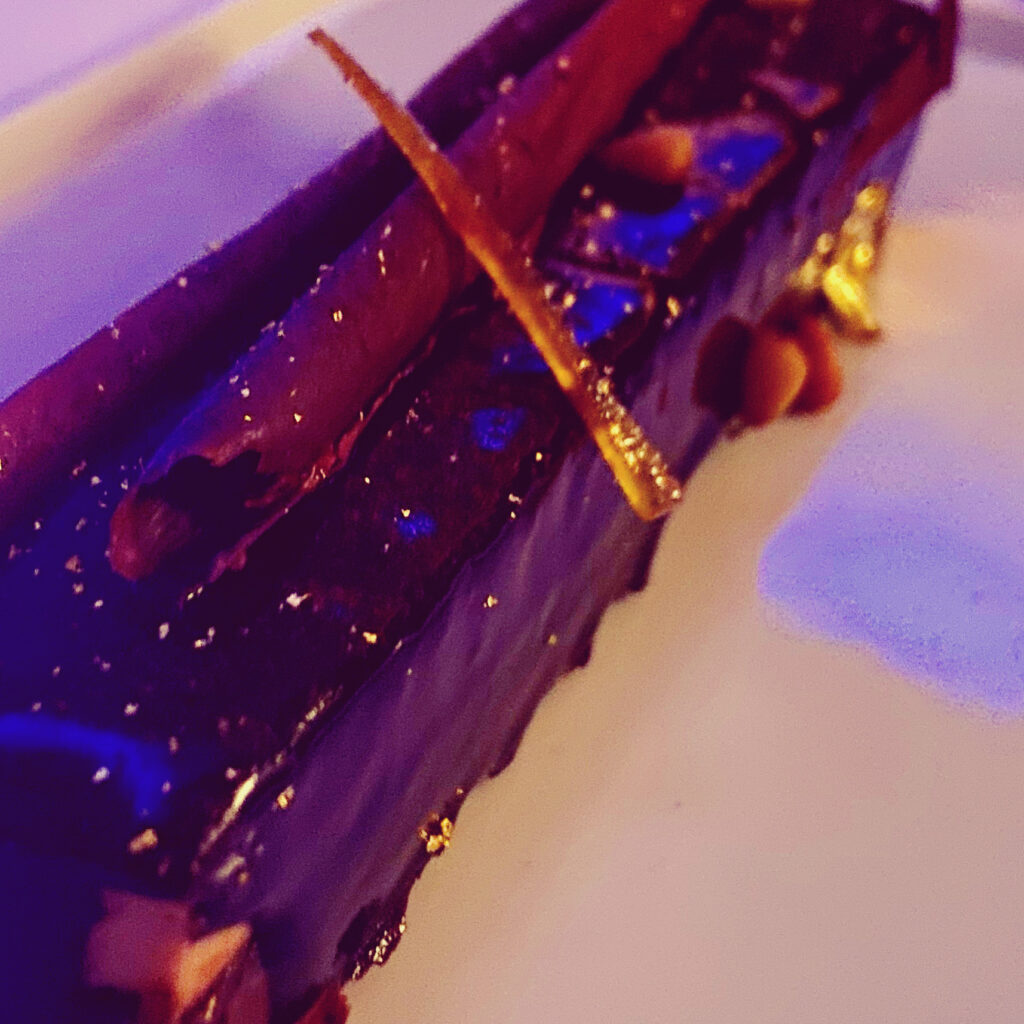 Being the only one in the dining room, I enjoyed the opportunity to chat with the server. He had been with Daniel for many years and, of course, was struggling like everyone else to navigate the Covid fears and onerous government regulations that have devastated the industry.

He also reported, though, that Daniel handled 200 covers the previous Saturday night. Not the norm, he said, but enough to keep the business afloat.

"We have so many loyal customers and they've definitely come out to support us," he said.

I'm convinced that Daniel's "it" factor, it's ability to stay on brand, as much as its impeccable service and world-class food, has helped it survive the destruction of 2020 when so many other big names have faltered.