One of the most shocking aspects of the James Beard House is the bathroom. Yes, the bathroom.
Every inch of wall is completely covered in mirrors from floor to ceiling. No matter what you do in that bathroom, it's reflected into infinity all around you.

It's a little freaky, actually – especially considering the late Mr. Beard himself was a rather rotund man. Some things don't need to be seen.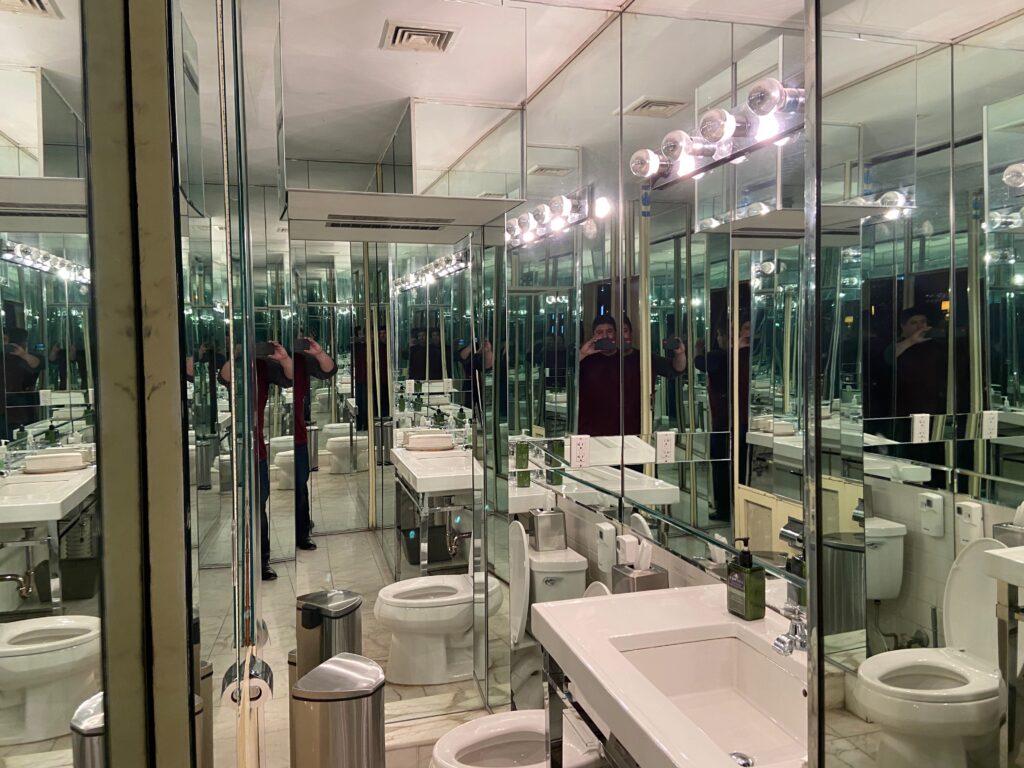 But the mirrored bathroom also adds a certain amount of eccentric charm to the James Beard experience – a once-in-a-lifetime opportunity for many of America's best chefs, food writers and food lovers. Seriously, where else in the world do you find a bathroom completely covered in mirrors?

You definitely remember the food. You definitely remember the bathroom, too.
Boston chef Avi Shemtov and I were in Manhattan in early March for his debut dinner at the James Beard House – a kinda big deal in the career of a chef. I had been there before as a food writer, but this was my first time there with a client chef. So that was pretty exciting.

In this case, Chef Avi's appearance was heightened by the fact that New York City, and its famous restaurant scene most notably, were shut down just days after we left because of the coronavirus pandemic.
Basically, Shemtov was one of the very last chefs to cook at James Beard before the city went silent.
The James Beard House, for those not familiar, is pretty much the heart of the American culinary world. It's a beautiful multi-level townhouse in Greenwich Village and the former home of great gastronome James Beard, America's most famous food critic, author and educator.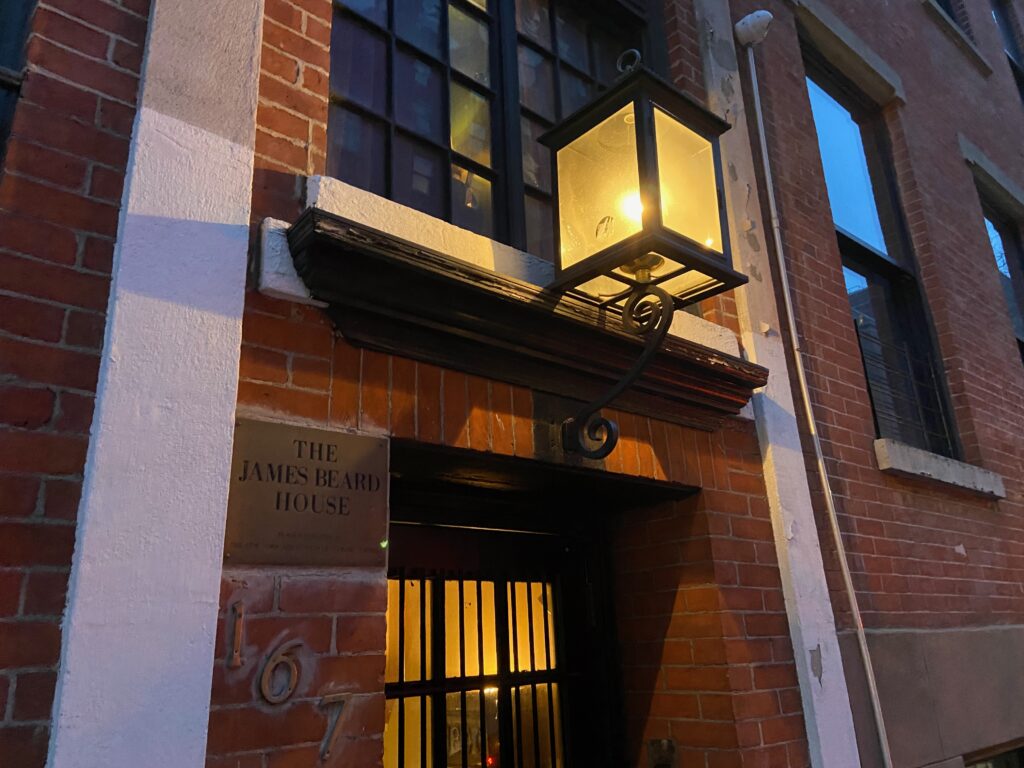 Beard celebrated the bounty and regionality of American cuisine in an era when mass-produced foods like Spam, TV dinners and supermarket white bread became the nation's hottest culinary trends.
He played a large role in saving American cuisine.
Beard died in 1985 but his legacy lives on in the annual James Beard Awards – basically the Oscars of the American culinary world – and in the James Beard Foundation, a non-profit organization of food lovers whose mission, according to its website, "is to celebrate, nurture and honor chefs and other leaders making America's food culture more delicious, diverse and sustainable for everyone."
After Beard's death, no less a legend than Julia Child suggested they find a way to use his house for the cause of American cuisine. So a group of chefs got together and bought the townhouse for a cool $750,000 – a steal compared to today's real estate values.
One way the foundation serves its mission is to host dinners at the James Beard House featuring America's most exciting culinary talents. Chef Avi was there to show off his unique New England-sourced Sephardic and modern Israeli cuisine.

It's the food you find today at his year-old Simcha restaurant in Sharon – voted one of Greater Boston's best news restaurants of 2019 by both the Boston Globe and Boston Magazine.
Basically, Chef Avi takes the globally inspired pan-Mediterranean cuisine of the Sephardic people (Jews of Turkish, African, Arab, Persian and Iberian heritage), food that you find on the streets of Israel today, and prepares it with locally sourced New England ingredients. For example, chickpeas don't grow in New England. So Chef Avi, a first-generation Israeli-American of Turkish descent, makes his hummus with locally grown heirloom bumble bee beans.
Totally cool and unique. And totally cool, unique food is how you end up cooking at the Beard House.
Here's how dinner at the James Beard House works:
First, anyone can attend dinner there. It's not cheap, generally $140 for Beard Foundation members and $180 for non-members. But you'd spend that much at any top-end Manhattan restaurant anyway. Definitely worth it for the experience and the quality of the food.
Chefs aren't so lucky. They need to be invited. Not just everyone gets to cook at Beard. Only the best American chefs. There are many details to work out and organizing the dinner involves several phone meetings with Beard organizers, who are true pros.
As you might imagine, cooking at the Beard House comes with a bit of pressure. Among other reasons, the guests generally speaking are very sophisticated food lovers, mostly wealthy Manhattanites used to dining at the world's best restaurants.
So if your food ain't good, it's really bad for your rep. A great dinner, conversely, can only elevate your profile among Manhattan's culinary elite.
Chef Avi and his team produced a rock-star meal.
The dinners are planned many months in advance. Chef Avi landed his March 2020 dinner date back in the fall of 2019.
The logistics are fairly daunting. Chefs need to arrive with all their own ingredients, source the wine, and bring down enough staff to cook their best-ever dinner for about 75 people. The Beard House provides the general manager, host, bartenders and servers.

And, of course, you have the use of their magnificent basement-level kitchen. Many of the world's greatest chefs have cooked in this very same kitchen. Wolfgang Puck. Daniel Boulud. Thomas Keller, and so many others. So there's a lot of culinary history right there.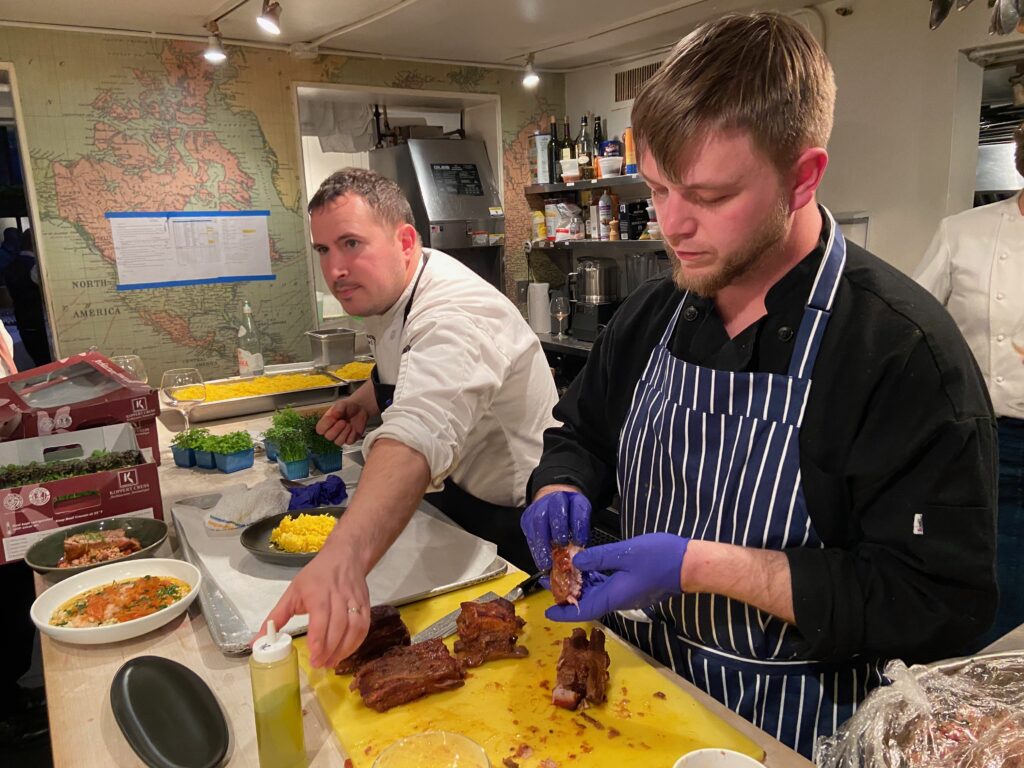 Think of a rookie for the New York Yankees walking into Yankee Stadium for the first time, feeling the spirits of Babe Ruth, Lou Gehrig and Mickey Mantle. That's what it's like for a chef cooking at James Beard for the first time.
The Beard House opens to visiting chefs at 8 a.m., basically giving them the entire day to prepare if needed for dinner that night. Chef Avi and his team showed up around midday, which was plenty of time to organize, prep, cook and be ready to rock 'n roll when guests arrive.

No detail was too small. Everything from the kind of wine to the style of background music played over dinner was covered in great detail. (Avi and the Beard House general manager agreed that chef's preferred choice of Jay-Z might be a little too hardcore for a swanky Manhattan dinner.)
Then there's a meeting with chef and the entire staff in the kitchen. The servers are provided by James Beard – all of them true pros. But they're also people who have never worked with the guest chef before. So chef went over every dish in detail. The ingredients, the pedigree, the history, the flavor profiles. Why he's cooking this dish on this night, so the servers can be prepared to answer any questions.
The show really begins when the guests arrive. It's a pretty dramatic entrance. The front door steps down into a parlor where the host checks off names. The parlor is right next to the kitchen. So EVERY guest walks right through the kitchen and sees the team in action.

By this point, the prep and organization is well in hand. So chefs normally try to greet as many people as possible. These guests paid good money to eat the nation's hottest new food. Naturally, they want to meet the chef. Avi shook plenty of hands and made new fans – all while overseeing his staff and every dish in detail.
Then it's cocktail time. There's a sort of indoor patio beyond the kitchen and an outdoor courtyard beyond that which is open in nicer weather. In this case, in chilly early March, the crowd was packed into the patio. Plenty of wine being poured and passed apps all around.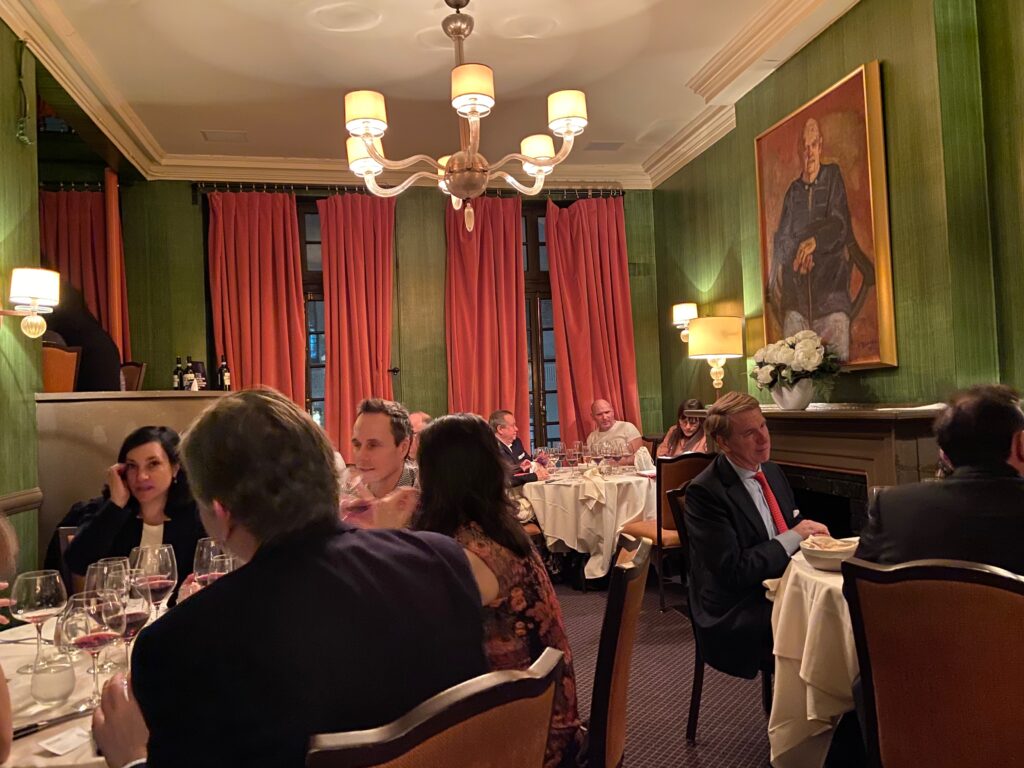 Finally, its upstairs to the dining room – which one assumes was Beard's original living room. It's pretty cramped. But it feels luxurious and extravagant and the tight quarters add to the festive vibe.
This is fine-dining at its finest. Each place setting on this night came with four forks, four knives and two spoons. That's a lot of cutlery! I don't think I even own that much silverware.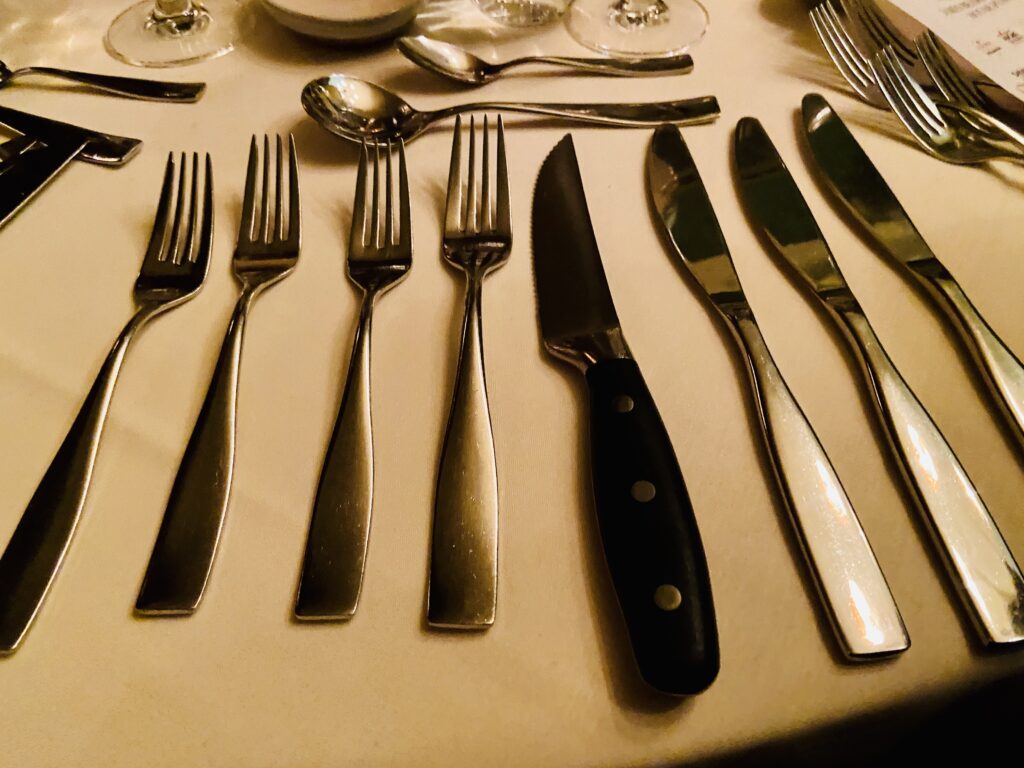 You can see the entire menu below. Pretty bad-ass, hard-core modern Israeli food with rich, multi-cultural Sephardic flavors. The dinner that begin hours earlier with passed apps ended with knafeh nest, a delicious dessert of delicate shredded filo with honey farmers cheese, strawberries and basil panna cotta.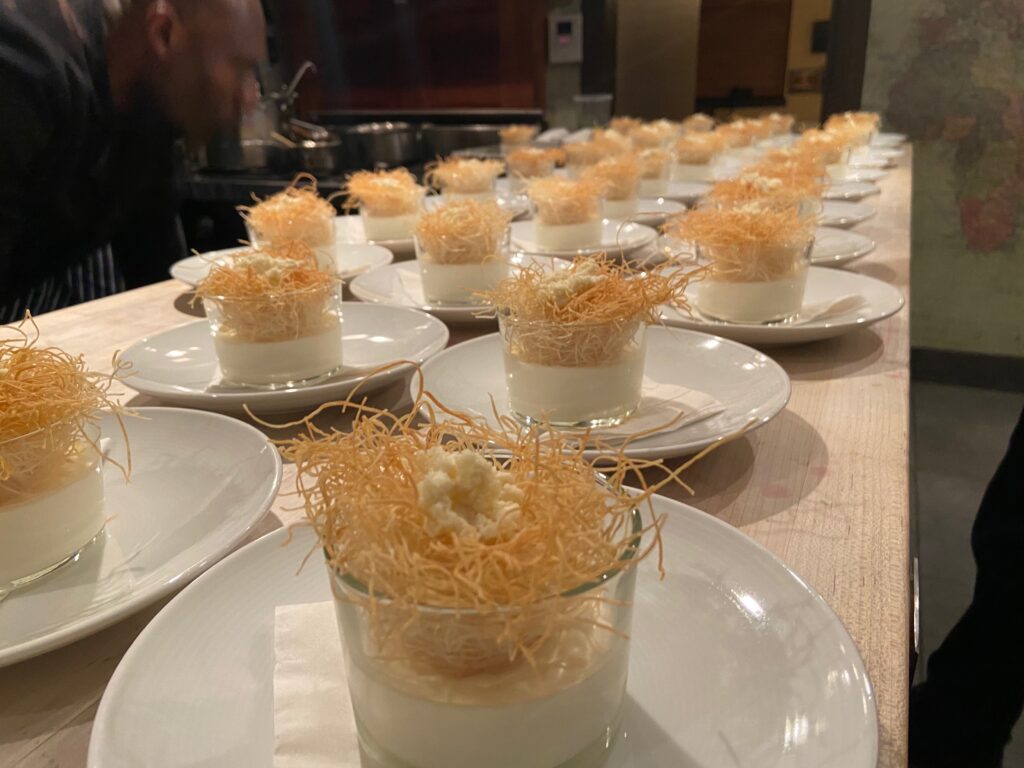 By the time the final course comes out, the crew in the kitchen has pretty much everything cleaned up and back in place. So the team heads upstairs to greet the diners. The guest chef gets a chance to speak, talk about his food, restaurant, background, etc., introduce his staff and answer any questions.

All went perfectly well on this night. Chef Avi's dinner was a home run. The kitchen ran smooth as ice. The service was top notch. Everybody loved the food and the wine.
It was the end of an amazingly busy 24 hours for Chef Avi and his team. The night before they fed several thousand people at an event for the Jewish Arts Collaborative in Boston.
They packed up after that event, hopped in a van and drove overnight to New York City, caught a few hours of sleep and proceeded to rock the Manhattan food scene.
The night ended as I imagine most James Beard dinners end, with a few celebratory beers, in this case at famed Greenwich Village watering hole the Blind Tiger Ale House. A perfect way to cap off a perfect Manhattan night and celebrate the global flavors behind American culinary tradition.
I'm sure James Beard himself would have been proud.