The fine folks from Thrillist last week did what they do best and posted a completely unverifiable but entertaining piece of click bait, purporting to rank every U.S. state based on their food culture.
Having just returned from Texas a few days ago, I have to agree.
A few highlights from the trip:
Barbecue beef brisket with beef, cheddar and jalapeño sausage and a side of collard greens at Pecan Lodge (featured image) in the trendy Deep Ellum section of Dallas. Ranked one of the top barbecue joints in America. We waited in line a good hour, but worth the wait.
A Fletcher's original corny dog at the State Fair of Texas after the Texas-Oklahoma game. Super-overrated. Def NOT worth the wait. But something you kinda have to do at the state fair. The Fletchers claim to have invented the corny dog.
Giant goblets of local beer with delicious beef brisket at H3 Ranch in the Stockyards of Fort Worth. The restaurant has horse saddle barstools and pretty bartenders in cowboy hats. Great spot!
Giant goblets of beer at H3 Ranch in Fort Worth

Shauna at H3 Ranch, our new favorite cowgirl bartender
The Mexican hot dog at Revolver Taco Lounge, also in Deep Ellum. This magical Southwestern wiener is made with Brian Luscher sausage wrapped in smoked bacon on a locally baked bun by Swiss Pastry Shop of Fort Worth, garnished with onion, tomato, crema, ketchup, mustard and giant savory pinto beans. Awesome! My buddy Dan had the genius to pair it with a bottle of Belgian-brewed Duvel.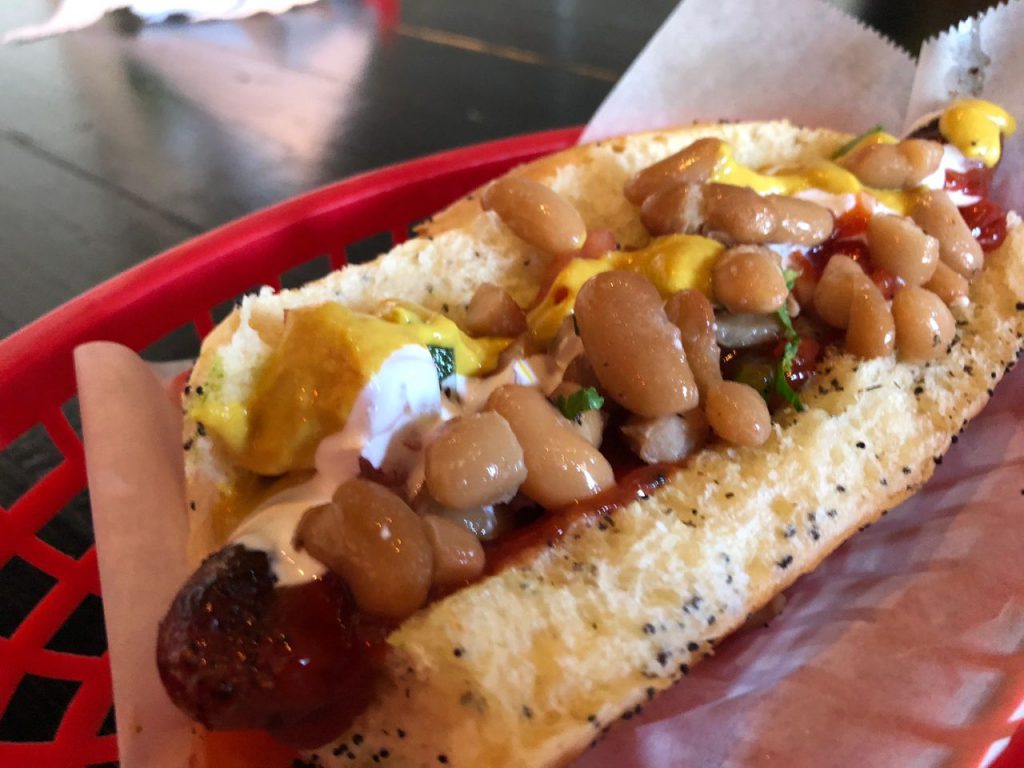 Chopped beef brisket at Cole's Bar-B-Q, located in a gas station in Fairfield, right off of Interstate 45 between Dallas and Houston. What a great little gem, especially for we fans of gas station food. There were Mexican girls behind the counter chopping up giant slabs of gorgeous brisket with cleavers. I proudly ate my brisket with onions, pickles and jalapeños later that day in a Lowe's parking lot in Houston.