The old paradigm of publicist placing news and journalist reporting news is a quaint fixture of an earlier era in media: like Morse code ticker tape or the ink-stained pressman. 
Oh, sure, we still do plenty of traditional story placement for our clinets, and quite successfully.
But that's really not how it works anymore and KJB Trending is at the forefront of the new paradigm: a borderless world where the message follows a fluid path beyond just the medium, or regardless of the medium. 

We inhabit an era in which nimble little companies like KJB Trending do it all: make news, place news, break news. 
We make news that causes media and the public to take notice
We place news with our media friends and partners
We break news that shapes the American hospitality industry, either here on our own platform or with major media outlet
Here are some recent examples of how KJB Trending shapes the news cycle at all levels in the modern media paradigm:
MAKING NEWS: THE SOUTH SHORE BAR PIZZA SOCIAL CLUB
KJB Trending created what was arguably America's greatest restaurant success story of 2020. 

It's called the South Shore Bar Pizza Social club. It's a Facebook group that now numbers more than 23,000 members, each of them devoted a quirky culinary curiosity found only in the pubs, taverns and dive bars south of Boston. 
The South Shore bar pizza proved an absolute sensation in 2020 and now into 2021, single-handedly helping save scores of local mom-and-pop businesses, all of which survived the devastation of the pandemic.
"The Facebook group was a Godsend, an absolute Godsend," said Tom O'Toole, the owner of bar-pizza joint O'Toole's Pub in the small working-class community of Whitman, Mass. "This group single-handedly saved my business."
We reported on the positive impact of the group on scores of local mom and pop businesses earlier this year. The story of South Shore bar pizza has been re-shared in scores of local and regional media outlets.
And here's the best part: KJB actually DEFINED this story and this trend earlier in 2020. A classic example of MAKING news happen to the benefit of many local businesses.
PLACING NEWS: KJB CLIENTS IN LOCAL, REGIONAL & NATIONAL MEDIA
Placing news, traditional public relations, is more or less our bread & butter. It's what people pay us to do – and we're really, really good at placing stories, several hundred placements in 2020 alone.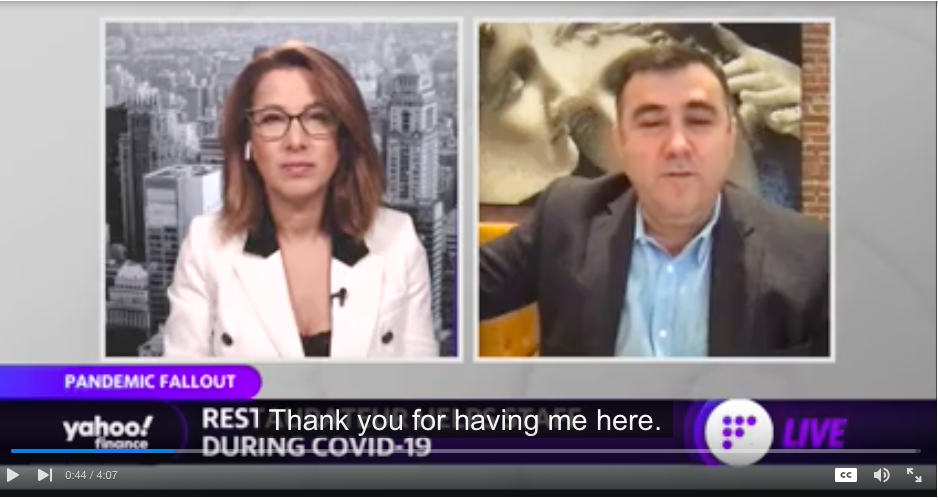 The gist of our business is working with clients to cultivate services and products that will not only please customers, but will generate media headlines.

We turn their businesses into stories, in other words. Positive, media-friendly stories that capture attention in a very competitive media marketplace.
Generating positive media for clients is all about finding the story the media wants to tell. And we have a gift for finding these stories.
MAKING NEWS: REPORTING FROM THE FOREFRONT OF AMERICAN HOSPITALITY
Growing up in the business as a reporter, I still covet the opportunity to report and write. And still have my ear on the ground of great trends in American hospitality. 

This week proved no exception. 

Tipped off by a friend in the industry, I was the first reporter in America to learn that one local Manhattan bar owner was putting his two pubs on the auction block. No surprise there, amid the devastation of Covid. 

But here's the catch. He was selling the bars for crypto-currency. I knew right away that this was a major national story. I immediately connected with my contacts at the New York Post, had the story lined up within minutes, and had the story out in the paper within days.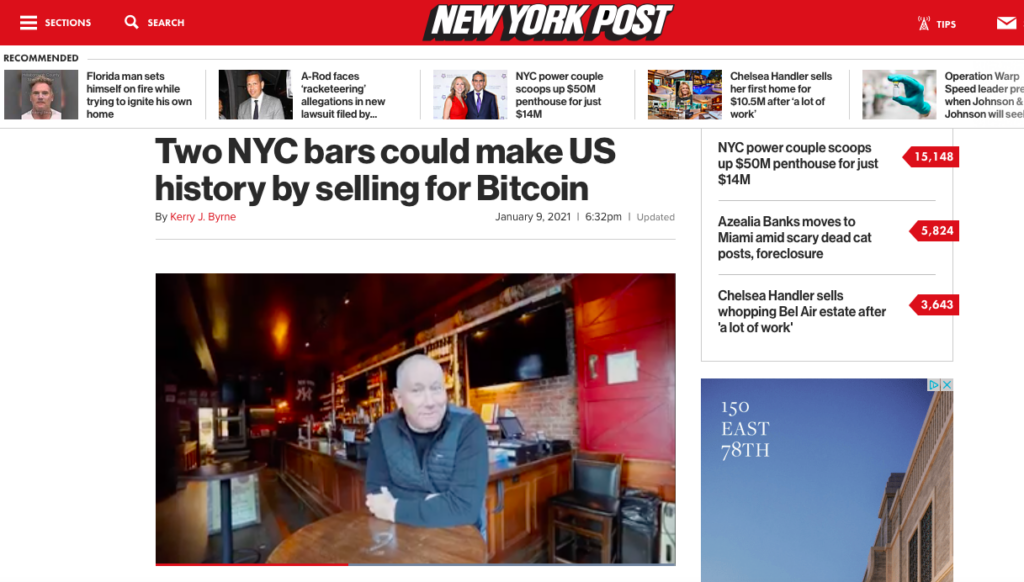 It's been the hottest story in both American hospitality this week – and also the hottest story in red-hot American cryptocurrency markets.
Fresh off our reporting in the New York Post, bar owner Patrick Hughes and his story have been featured in everything from local New York City TV stations to national networks to international financial outlets – all of it launched by KJB Trending.