American tourists flock to Normandy for its amazing history, most notably as the site of the World War II allied invasion of Europe on D-Day, June 6, 1944. The Longest Day.
Military history here dates back a full millennium. Norman king William the Conquerer led the invasion of England from Normandy in 1066, reshaping European history in the process. His conquest is artfully told today through the Bayeux Tapestry, located just a couple miles from the famous Normandy American Cemetery at Omaha Beach.
There's more than just awe-inspiring history in Normandy. It's also a great place to sample the incredible flavors of Norman cuisine and, most notably, its rustic and bubbly hard cider, a distilled apple brandy called calvados, and pommeau, a refreshing aperitif that's a blend of calvados and apple juice.
Calvados is not just the name of the Norman spirit. It's actually the name of the region of Normandy that witnessed the D-Day invasion. Calvados is made in Calvados, much like champagne is made in Champagne.
There are plenty of places to sample these delicious spirits here the United States. But Norman cider tastes best in Normandy itself. The climate and cuisine of Normandy are much like those in southern New England, with traditional dishes centered around seafood, dairy and apples. It's too cold for grapes. So Normans traditionally make cider, not wine.
Norman cider is much different than the sugary English and Irish ciders you see in pubs around my hometown of Boston. Norman cider is quite rustic, filled with barnyard flavors, aromas and terroir. It's typically spontaneously fermented with indigenous yeasts, lending to its unique farmhouse character. Norman cider is bubbly and effervescent, served from a corked bottle. It tastes like and spritzes like apple-flavored champagne.
The main cider-making region of Normandy is the Pays d'Auge, which is east of the invasion beaches. This is where you'll find Normandy's Cider Trail. But there are many other cider makers right near the American invasion beaches (Omaha, Utah), which remain largely agricultural, despite the flood of tourists.
Fields of golden grain sway in beach breezes amid the smell of saltwater, fresh-cut hay and manure. Cows are ubiquitous. This is still a very rural farming region.
There is a large dairy, Isigny-Ste-Mere, between Omaha and Utah that makes brie, camembert, mimolette and Pont l'Eveque cheeses. Julia Child savored Isigny butter during her first meal in France, which was at a restaurant called La Couronne in the Norman city of Rouen. (Founded in 1345, La Couronne is the oldest restaurant in France!)
Small, tightly clustered villages of stone farmhouses sit on the D514, the winding coastal road that connects Omaha with Canadian and British invasion beaches to the east. Hard to believe massive tanks rumbled down this same narrow road 75 years ago.
Allied flags fly over villages and there are small heart-felt tributes: murals of GIs painted on farmhouse walls; beds of flowers in the red-white-and-blue shape of the American flag. Remnants of the war remain: Sherman tanks on the roadside, concrete German gun emplacements, monuments to the fallen.
And, amid it all, apple orchards and farmhouse distilleries – which offer tastings, sell their goods and still harbor memories of D-Day.
Here are five of those famous distilleries, each of them on or near Omaha Beach in the American sector of the invasion. It was the deadliest and most well-defended beach and, as a result, the most famous D-Day beach.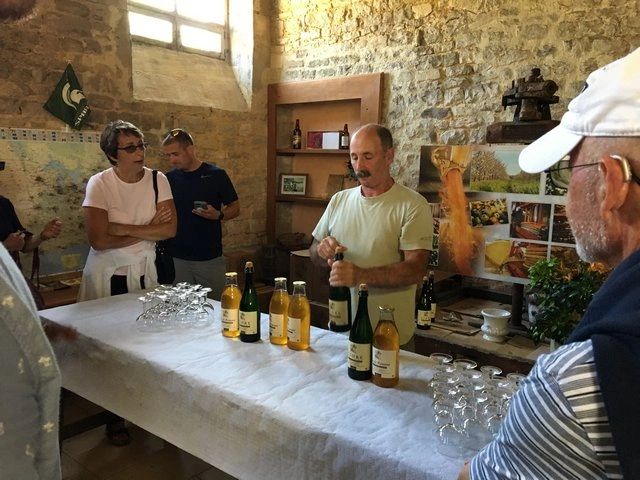 Bernard Lebrec makes cider on his family farm in Englesqueville la Percee, a short distance from the cliffs of Pointe du Hoc, which U.S. Army Rangers climbed while under fire on D-Day to take out a nest of German artillery. The farmhouse is right on the D514 and it's built into the stone turrets of an old medieval castle. Pretty amazing.
You can sample Lebrec's cider or calvados, scan his collection of World War II memorabilia and stick a pin in one of the maps on the wall that track his visitors from around the globe (and most from the U.S.).
You might also notice an American flag and a monument to U.S. Army engineers in his backyard. Those engineers turned an adjoining field into a landing strip in just three days, helping drive the Allies deeper into Normandy and ultimately onto victory.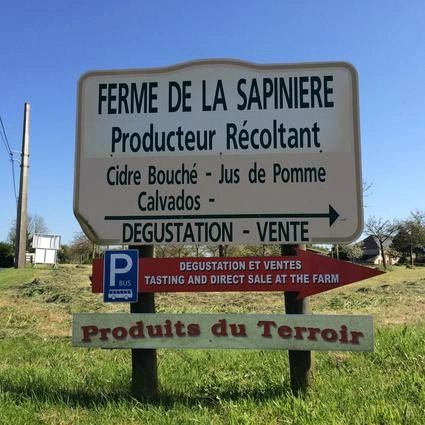 Ferme de la Sapaniere is about 1 mile west of the famous Normandy American Military Cemetery at Omaha Beach (the one often seen on TV and in the opening and closing scenes of "Saving Private Ryan.")
It is, with Lebrec, my favorite cider in the region. It has a large and inviting tasting room and gift shop selling cider, calvados, pommeau and other Norman specialties. Seafood terrines are very popular, a way for folks who live in inland to bring the flavors of coastal Normandy back home with them. You can purchase them here at La Sapaniere.
It has plenty of parking and, being so close to the cemetery, is a popular stop for tour buses. So it can get busy. But I always have a pleasant experience there.
Ferme de la Felicite is a few miles east of the Omaha Beach cemetery, near Gold Beach in the British invasion sector. It's in the village of Longue-sur-Mer, nearly within the haunting shadows of a German coastal gun battery that fired on Allied ships and soldiers on D-Day and that still lords over the cliffs near Gold Beach.
The four huge guns were knocked out on D-Day by the battleship U.S.S. Arkansas and captured by British commandos the following day. The gun battery and Felicite make for a great one-two sampling of Norman history and cuisine.
Longue-sur-Mer is just east of the fishing community of Port-en-Bessin and north of the city of Bayeux, a very convenient place to stay between the American and British invasion sectors. Bayeux is also home of the famed Bayeux Tapestry, which tells in visual form the story of another cross-channel invasion: Norman duke William the Conquerer's invasion of England in 1066.
Ferme du Clos Tassin is very close to the Omaha Beach cemetery and the new Overlord Museum next to the cemetery. But we've found it a not particularly inviting place. Most cider makers appear quite welcoming and generous. It's not quite the same experience at Clos Tassin. But it is very conveniently located near the cemetery, Omaha Beach golf course, beachfront campsites and other attractions.
Ferme du Lavoir is in Formigny, about 2 miles inland at the far western end from Omaha Beach. It has an elegant stonewall tasting room and is a very convenient stop near a number of landmarks, including Pointe du Hoc and the sober German cemetery in La Cambe filled with stout black crosses. It's also right off the main highway that connects Omaha Beach with Utah Beach.
You could easily visit all five cider makers in a single afternoon.
Finally, if you visit, consider staying at Chambres d'Hotes La Goulette, a small, attractive farmhouse bed & breakfast in the coastal town of Commes, just east of Port-en-Bessin, between Omaha and Gold beaches.
It's not a cider maker, but owners Maryline and Yann sell the cider, calvados and pommeau from a family farm elsewhere in Normandy. They offer tastings, too.