Unleash a seasoned team of North End Italians upon Boston's South Shore and you get a uniquely delicious style of pizza.
Boardwalk Pizza arrives at Victory Point in Marina Bay today in Quincy, Mass. It's a breezy new concept from the Frattaroli Family of Boston's North End restaurant fame, one of the most prominent names in America's best neighborhood for Italian dining.
Boardwalk Pizza features a refreshing style of pie specifically crafted to be enjoyed along the scenic New England waterfront.
"Boardwalk Pizza offers fresh, handmade crispy thin-crust pizza with a combination of Italian and American pizza traditions true to our family's roots in Abruzzi on the Italian coast but also true to summertime traditions here on the American waterfront," said owner Donato Frattaroli Jr., who spent months working on the recipe with executive chef Pino Maffeo.
"Everything is fresh, homemade and meant to be enjoyed on a beautiful day here at the boardwalk, on your boat, or even in the comfort of your own home."
Yes, it REALLY is super thin and crispy. Check out the amazing Instagram video here!
Boardwalk Pizza will be open seven days a week year round, offering whole pies for delivery and take-out and oversized slices for fast casual eats – something delicious to savor walking around the Marina Bay boardwalk admiring the views of the Boston Harbor Islands or the yachts below.
Boardwalk Pizza is prepared with house-made dough, tomato sauce and Italian cheese blend. The sauce is lightly seasoned with Italian herbs that are grown in-season in the Frattaroli family garden. Garnish herbs and produce also come from the Frattaroli family garden when available.
Boardwalk Pizza was specifically crafted to be uniquely perfect seaside fare. It features:
Crispy super-thin crust meant to be enjoyed all year long, but especially important during the beach-body-conscious summer months when every carb counts
A light layer of Boardwalk Pizza's secret Italian cheese blend, highlighted by buffalo milk mozzarella
Several seafood-oriented options that celebrate the bounty of local waters, including Cape Cod clam and local lobster pizzas
Oversized slices to go, each one ¼ of an entire 16-inch pizza
A stiff low- to no-flop crust, making it easier to enjoy walking around the boardwalk
Chunky sea salt mixed in the dough and also sprinkled on top of most pizza options, adding an extra burst of salty seaside flavor perfect for boardwalk dining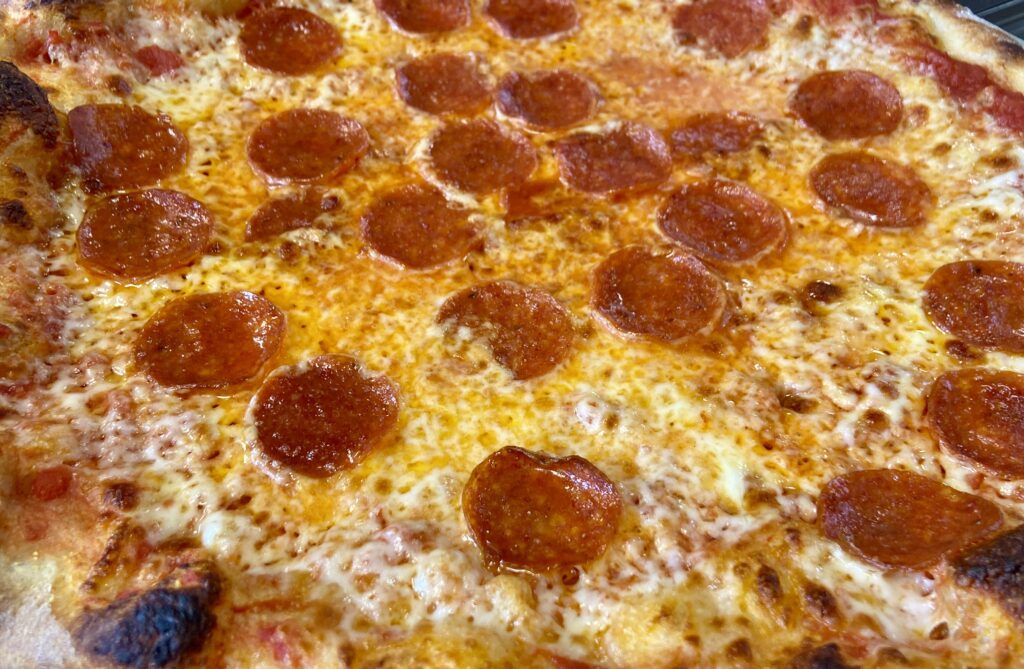 Chef Maffeo discusses here on YouTube the qualities that make Boardwalk Pizza uniquely delicious seaside fare.
"We wanted to create a delicious pizza that tastes great all year long, but more specifically we wanted to create a great pizza that captures the essence of casual seaside dining," said Frattaroli Jr. "We think we've found the perfect combination of Italian and American pizza traditions and oceanfront flavors."

Pizza options include:
"Boardwalk style" cheese pizza finished with sea salt
Fresh clam pizza with roasted garlic, chilis, Romano cheese and extra virgin olive oil
"North End special" pizza with sausage, peppers and onions
Local lobster pizza with roasted garlic and arugula
Boardwalk Pizza will also offer salads plus super-sized sub sandwiches. Sandwich options are highlighted by traditional Italian, oven-roasted chicken parmigiana or meatball with melted provolone and tomato sauce, plus vegetarian options such as caprese and avocado sandwiches. Guests can also enjoy caprese, Caesar, chopped or arugula salads.
Boardwalk Pizza is located at 332 Victory Road, Marina Bay, Quincy. 617-315-4099. It opens at 11 a.m. seven days a week, closing at 10 p.m. (Sunday–Wednesday) and 11 p.m. (Thursday-Saturday).